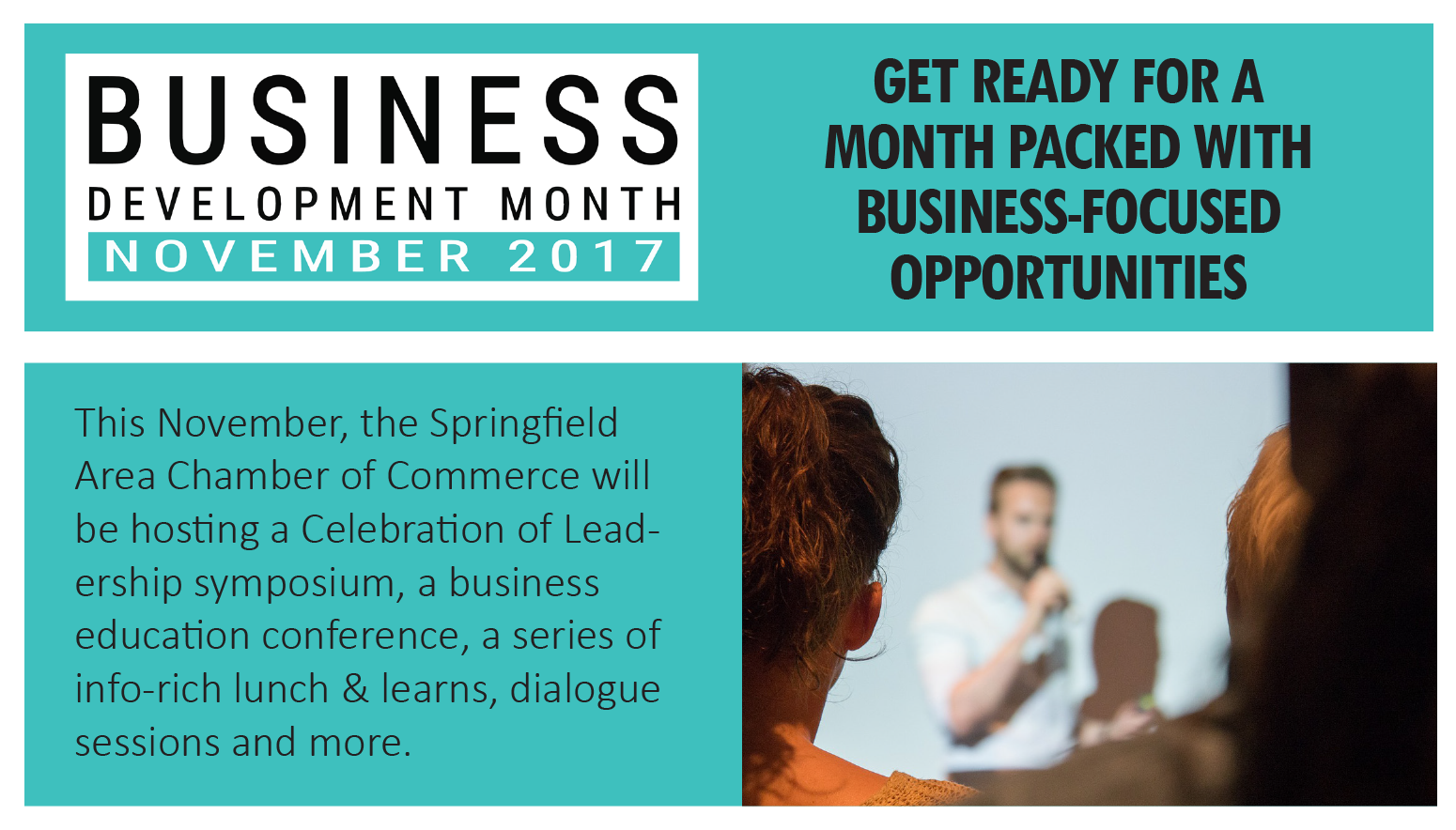 Business Development Month is a focused effort to bring a broad selection of opportunities for business and professional development to the Springfield area. The areas covered will include leadership, management, communication, marketing and more. The formats for instruction will vary, from TED styled talks to workshops to round table dialogue. The event will focus on providing tangible outcomes and clear direction for ongoing use of the concepts presented.
---
NOV 1


A Celebration of Leadership
Venue: Springfield High School
Content: Kick off the month at Springfield High School with an energizing lineup of presentations on leadership by veteran experts and tomorrow's leaders alike. Free. 5:30 - 7:30pm


---
NOV 14
ACCESS: Business Conference
Venue: Hilton Eugene
Content: Starting with an opening keynote by
prize winning expert and author, Gary Conner, this day is filled with powerful insights. Learn from experts on management, marketing, communication and more! 11:30 am - 5:00 pm. $20 for Chamber members, $30 for non-members


---
NOV 6,8,10
Lunch 'n Learn Series
Venue: Springfield Depot Freight Room
Content: Join your peers for a trio of lunch hour seminars around critical business topics, including business credit and financing, employee engagement and retention, and more...12:00 - 1:00 pm. $10 for Chamber members, $20 for non-members

---
NOV 25
Small Business Saturday
Venue: Varied
Content: Be known as a Champion for small business during Business Bingo, the Chamber's Small Business Saturday celebration (Nov 25) and the Shop Small Buy Local campaign through the holiday season.
---
NOV 3,10,17


Springfield Dialogues
Venue: Springfield Depot Freight Room
Content: Expand your knowledge of industry's most challenging issues. Join us for a collection of facilitated dialogues, where differing opinions are essential and collective understanding is celebrated.
Free. 7:30 - 8:30 am
---
NOV 27, 29, DEC 1
Your Story Matters


Organizational Identity 3-Day Workshop
Venue: Varied
Content: In this hands-on workshop you will identify the experiences that best illustrate your company's culture and vision. These moments will be shaped for immediate use in both internal and external marketing. 12:00 - 1:30 pm. $95 for Chamber members, $145 for non-members


---
For more information, please contact Robert Killen at
[email protected]
CALL TO REGISTER NOW!
---
Thank You to Our Sponsors: