#LoveLaneBiz | A Pledge to Safely Serve the Community
The safety of our businesses and community members continues to be top of mind. To show your commitment to following guidelines, staying informed, and continuing to be kind, patient, and respectful, we invite you to take the #LoveLaneBiz pledge. The #LoveLaneBiz pledge is a promise to safely serve our Lane County community as we reopen. This pledge is not only for businesses though. We encourage customers to sign on also and show their support for our local businesses.
THE BUSINESS PLEDGE
While all businesses that are operating are required to follow the mandated guidelines, we're offering an opportunity to take this additional pledge. Our aim is that consumers can feel confident visiting these establishments and utilizing services.

​We invite you to take the #LoveLaneBiz Pledge and share it! Below is a form and with each business that signs the pledge, we'll add you to this site. There is a printable PDF that we encourage you to print and hang at your place of business. You can also update your Facebook profile to utilize the pledge profile photo frame and share your badge on social media. Just another way of letting consumers know you're committed to this community!
THE CUSTOMER PLEDGE
Supporting local businesses during this time will help these companies bounce back and our economy to recover. Right now, that support means shopping local, following health guidelines, and providing grace and understanding as businesses adapt to and navigate new guidelines being required by the state.
We encourage community members to take this pledge to support our local businesses; our neighbors; our friends; our families; and our community as we work to keep Lane County open.

SHARE YOUR SUPPORT ON SOCIAL MEDIA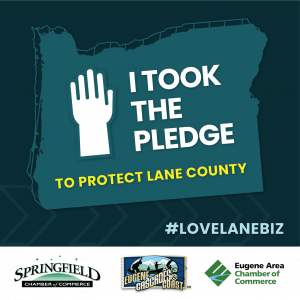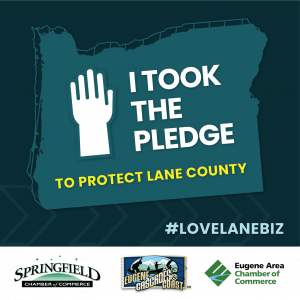 #LoveLaneBiz Customer Pledge
Alicia Heer
Alyssa Powell
Andy & Debbie Vobora
Barbara Flitcroft
Bettina Hannigan
Brett Golonk
Brittany Quick-Warner
Calvin Polen
Candice Hook
Carol Tannenbaum
Cassie Stoner
Cedric Rudd
Danielle Thompson
Derek Richwine
Elizabeth Kidder
Elora Kelsh
Erica Dooley
Erik Parrish
Heidi Bloodgood
Israel Bloodgood
Jeannie Bealer
Jennifer Archer
Jo Beaudreau
Joe Cavanagh
Jodi M Sommers
Joe Berney
John DeWenter
Juanita Metzler
Julia Voigt
Katie Frericks
Kim Thompson
Kori Murphy
Kristin Bond
Larissa Straily
Lisa Ayala
Margaret Theisen
Mark Molina
Mark Riddle
Mary Mackey
Melinda Thompson
Mia Burton
Michelle and Bruce Webber
Miriam Whiteley
Pam Whyte
Patricia L McConnell
Phil Farrington
Ron Saylor
Sally Wantz
Sara Brandt
Sarah Jean Wilson
Shari Bea
Suzanne Cavanagh
Vonnie Mikkelsen